As Hurricane Harvey recovery in Houston begins, let's not forget the lessons we learned in Katrina. Journalist Sheri Fink documented the horrific conditions at Memorial Hospital in New Orleans, Lousiana during the hurricane in which life-support systems lost power, food and medicine depleted, temperatures soared, and patients tried to survive in darkness.
Doctors were left with a decision they felt was the only ethical thing left to do and injected elderly patients with lethal doses of morphine and sedatives. Read more in Fink's alarming novel.

Fink's book is a commonly assigned reading in graduate public health programs for its in-depth examination of ethical health issues. 

HOUSTON, TX, — Tuesday, August 29, 2017 — UPDATE
Flooding across the Houston area has increased as up to 2 more inches of rain fell on Monday night. Most evacuees are headed towards the Houston Convention Center which is packed with over 9,000 individuals as of Tuesday morning.
University of Houston campus is closed until the Tuesday after Labor Day. University President Renu Khator. Full message below: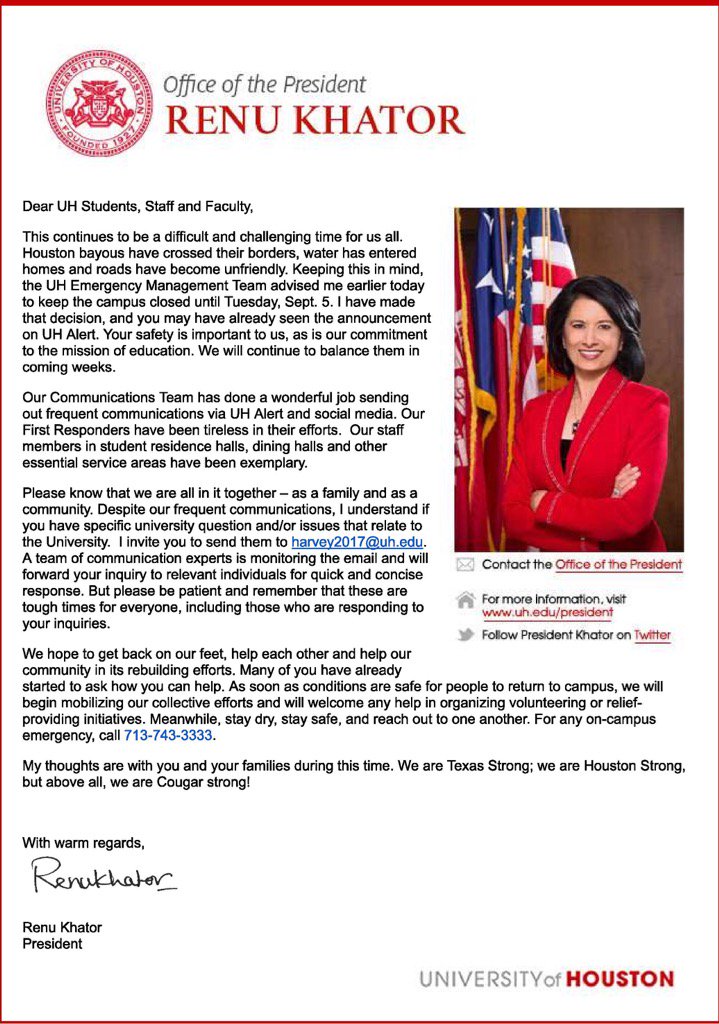 Souce: @UHpres, Twitter
An off-campus student source we spoke to at the beginning of the storm is currently moving items of value to the second floor of her home in the Houston Medical Center area due to rising flood waters. She and her family are saving water and waiting to hear how they can be evacuated.
---
HOUSTON, TX, — Sunday, August 27, 2017 UPDATE
As rescue operations are underway in the massive flooding in Houston, tornado warnings have gone into effect.
Saturday evening, University of Houston students who were staying in the dorms were told to stay indoors and away from the windows. Campus cafeteria was open in the dorms, but are operating on a limited menu. Classes are canceled until next Wednesday, August 30, 2017.
The University of Houston website has advised students to move cars to any above the ground parking. Approximately 2,000 to 8,000 students are currently staying on campus during the storm. This includes out-of-state students and foreign students. Buildings are equipped with backup generators to secure elevators and security/ safety systems.
Meanwhile, UH students are taking to SnapChat to document their experiences.
A helicopter makes landing to provide aid. 
Mayor Sylvester Turner did not mandate any evacuation of Houston, and in a press conference today defended his decision saying that an evacuation would have led to a far worse calamity for Houston residents. "The decision that we made was a smart one. It was the right decision in light of their safety" Turner told reporters. He also stated, "If you think the situation right now is bad, you give an order to evacuate, you are creating a nightmare. Especially when it's not planned."
Currently, all major interstates and highways are closed.
We spoke to Rami Nassar who owns a local towing company Rami Wrecker Services. Nassar said while his community is not flooded, his phone is ringing off the hook to help stranded passengers and residents. Nassar mentioned that small boats fitting about 5 people are circulating the city to find residents in need of help. In one rescue, Nassar almost lost his truck to the flood. He further advised caution of standing in the water as he has observed crocodiles and sharks in the water.
Tornados are also causing further destruction.
Video courtesy of Rami Nassar, Rami Wrecker Services, August 27, 2017.
More flooding is expected this evening.
---
HOUSTON, TX — Saturday, August 26, 2017 — While Hurricane Harvey has been downgraded to a tropical storm as of Saturday afternoon, students at the University of Houston are stuck waiting to find out when and how they will return to classes.
We spoke to a first-year nutrition major at UH who told us that the campus is closed until Monday. However, with flooding forecasted she is unsure how she can return to campus because she can only park in her designated parking space –which is below ground in basement parking.
While the student we spoke to feels safe in the medical center area where her apartment is, she worries more for students in Katy who are at a higher risk of flooding. She tells us that teachers have been supportive and have communicated messages of staying safe throughout the storm, but she is working to complete all her online assignments to avoid falling behind.
Students staying at the University of Houston campus dormitories welcomed President Renu Khator in the Moody Tower cafeteria for lunch.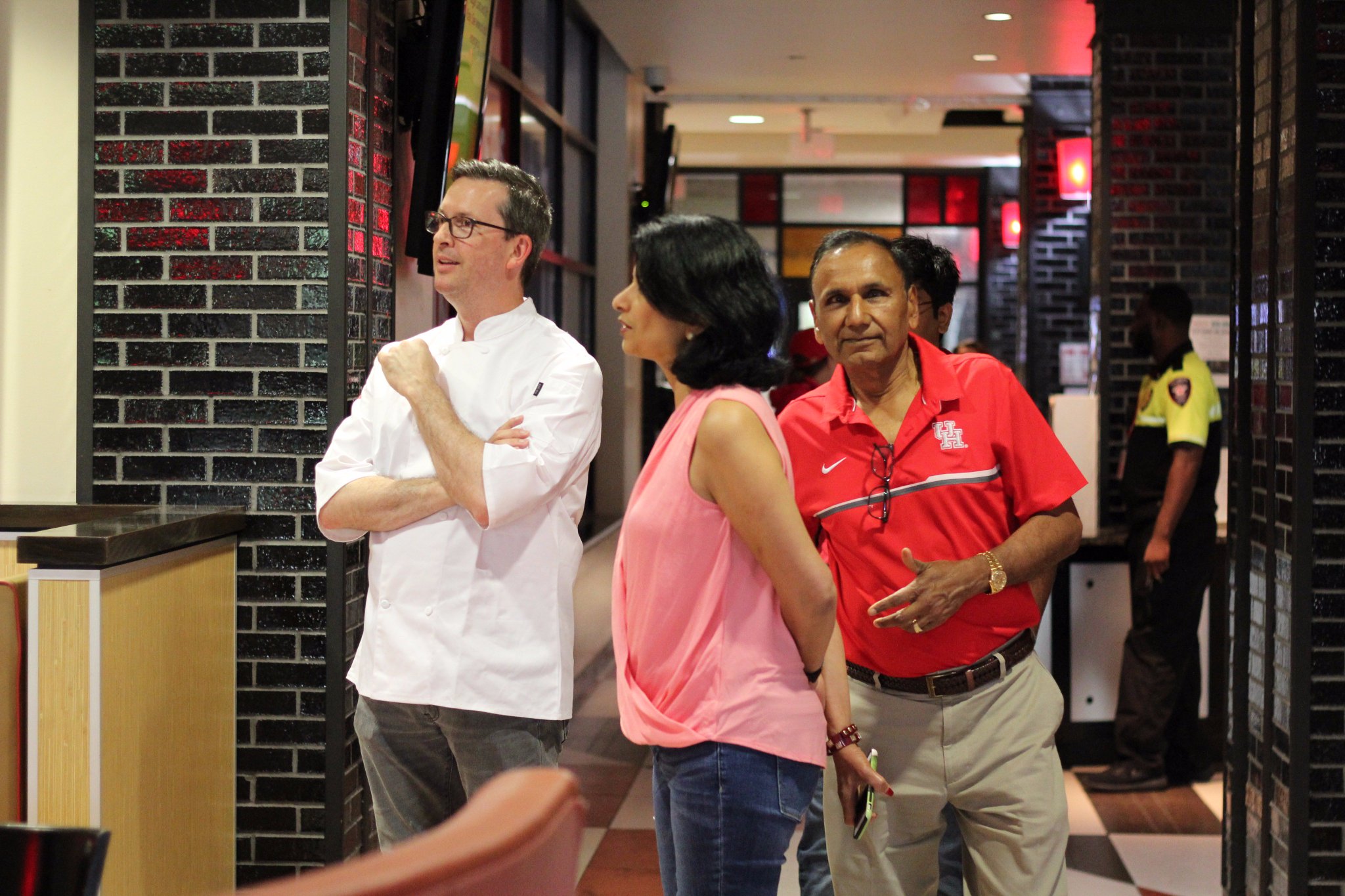 Source: @Thom_Dwyer, Twitter
---
Disclosure: This post contains affiliate ads and College Mamma is compensated if you make a purchase through any of these links.